Roger on Blu Radio Colombia 10th December 2021
Roger was interviewed live on Blu Radio Colombia by host Camila Zuluaga and translator Mariana Palau on how we can live better with cats. Blu Radio Colombia also produced this as a podcast: Click to Listen
BBC World Service CrowdScience 19th November 2021
Roger Tabor featured in this popular global series in "Would my cat survive in the wild" programme. In expanding on this question from a Japanese listener, Roger discussed how cats live & survive as housecats & feral cats, & mentioned in particular star cat Scrumpy (in picture with GPS collar. (With Roger are interviewer Melanie Brown & producer Cathy Edwards).
Broadcast: online Americas, UK DAB/Freeview & Europe at 2021 local time, & elsewhere around the world at different times. (Subsequently as BBC CrowdScience Podcast: Click to view ).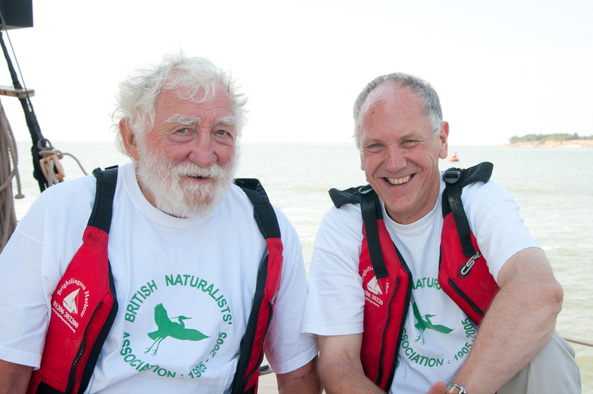 President of the BNA:
Roger Tabor became President of the British Naturalists' Association on 9th October 2018 after David Bellamy had retired from the post having reached 85. The Association was founded in 1905 & promotes active field natural history & Naturalist Recognition. (Picture: David (L) & Roger (R) taken in 2014 during a BNA event, pict by Jon Sturdy Photography). Sadly David Bellamy died in December 2019.
COUNTRY FILE - 30 Years On!
Sunday 24th July 1988 at 12.30pm on BBC1 saw the first transmission of this popular series, 24th July 2018 marks its 30th birthday! The above picture in the Radio Times to herald the start of the series shows its first team of presenters, Roger Tabor is on the right of picture, the others from the left were Caroline Hall, Ian Breach, Anne Brown & Chris Baines. Roger & Chris were dubbed "the Green Team", the Radio Times describing Chis as an Environmentalist & Roger as a Natural Scientist.
Psycho Pussies : When Cats Attack C5 24th June 2015 (Repeat 2018)
This documentary had around double C5's typical audience share for the 8 - 9pm slot, & had "first hand testimony of Britain's (&US's) worst cat attacks" using a mix of on-line clips & doc footage.It featured Roger & a couple of other behaviourists commenting on the feline & human behaviour, - & their general view on most of the incidents didn't blame the cats for the situations! Owners were often a key component of a problem for themselves & the cat. Roger at one point said "Why, why, why (just) wear socks?" when an owner was having his feet attacked, & Roger found it subsequently being quoted about! It was an interesting marriage of on-line clips by owners & their friends with TV for 'bad behaviour' as it was seen to occur.
Alan Titchmarsh Show ITV1 Thursday 7th February 2013
Roger Tabor discusses with host Alan Titchmarsh, famed birder Bill Oddie & the Cats Protection vet about cats and whether they are the number one killer of birdlife in the wake of a recent American paper that claims billions of birds are being destroyed in the US. On the show a crate labelled "dangerous animals!" was opened to find 2 pet cats who were picked up by Alan & Roger. Alan asked "Is the cat the most dangerous destroyer of birds" and Roger replied no, we are the most dangerous animal. Roger said that he is both a naturalist and cat specialist. Roger pointed out that in the US positions over cats and wildlife are much more polarised than in the UK, where the real test is not numbers caught but whether cats are affecting species survival. He said that in the UK the RSPB & BTO are more sensible. [Roger's view is supported by the RSPB who state "there is no scientific evidence that predation by cats in gardens is having any impact on bird populations UK-wide" and also by the State of UK's Birds 2012 report which identifies changes in land use as the major problem].
Wild Side of Cats National Geographic Channel 19th May 2013 (USA TX; later UK)
Cats from a number of households in suburban Bristol were monitored by Roger's cat-nav, cat-cams & trail-cam plus the TV cameras & observations of behaviour. Roger then interpreted the data & found the pattern of the cat's ranges & their interactions with each other & their households. The cats had their areas of garden's & adjascent allotments. Milo a black & white longhaired cat turned out to be the unexpected star wanderer. When Roger showed the owners of the cat's the mapped extent of the cat's travels they had no idea they travelled so much. But the owner's revealled to Roger that Milo had Maine Coon Cat ancestry, which aided Roger's interpretation for these large domestic cats are from North American farm cat stock where those cats patrol significant territories.
The One Show BBC1 3rd May 2012
A 'crime wave' in suburban Luton by Denis the Kleptomaniac Cat was sorted out by Roger Tabor on the One Show with cat-nav (GPS) & cat-cam & catflap CCTV! Denis was bringing back home sandals, paint brushes, balls & notably underware/swimware including a woman's thong. The problem was to identifying where he was taking them from & why. Roger talked it through on camera with computer mapping of the GPS with Angelica Bell. Roger narrowed down the half acre of 1year old Denis's range revealed by the GPS using the return times on the CCTV catflap-cam for the cats arrivals home with 'swag'! The goods were taken back to their owners. The question of whether Denis was entering homes & taking underware/swimware or just taking them from gardens was revealed when it was found that the sandals & thong were from a house with a garden hot-tub. The family hung their wet hot-tub swimware out to dry after an evening soak, & left the wet sandals also outside. So where was solved, but why?
Roger said that 'cat burgling cats' are very rare, & unlike cats that bring home food scavenged from bins. Roger found from Denis's owner that he was orphaned as a young kitten, & unable to go outside as he was very unwell during his early life. Consequently Roger said Denis was not taught by its mother about prey and became fixated on 'toys' & continued to hunt them. In the studio guest Sir Terry Wogan said "I wouldn't have missed that for anything!"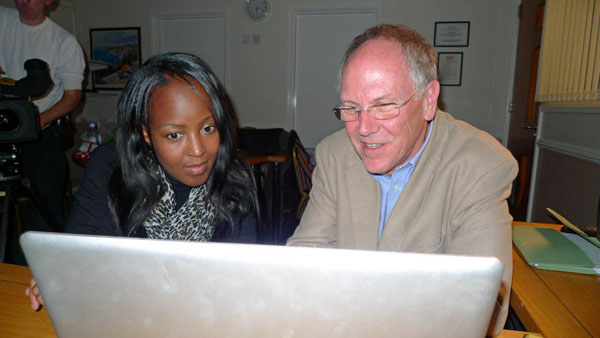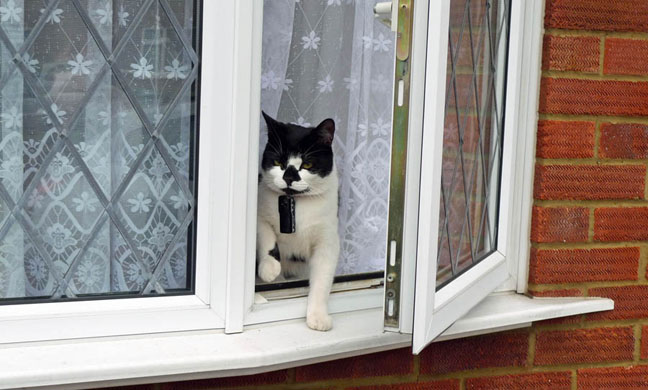 "Must Love Cats" on 'Animal Planet'
Premiere transmission in USA Saturday 24th March 2012
Roger Tabor was filmed with 'Must Love Cats' host John Fulton talking about Roger's cat-nav and cat-cam cat range and behaviour project. The American show visited Roger's 400 year old cottage in England for the programme 'English Kitties & Stowaway Cats'. The featured cat 'star' monitored by Roger was a female black & white small-town cat which was found to have a much wilder life outdoors than her contented home life suggests.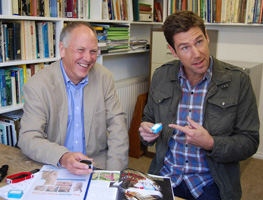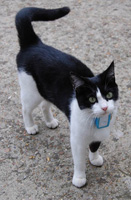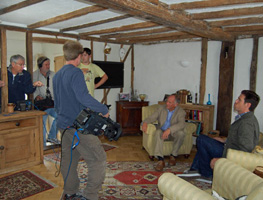 The Chris Evans' Breakfast Show Live on BBC Radio2 Tuesday 2nd August 2011
Roger was a guest on Chris' programme to solve why cats were attracted to sit on Moira Stewart when she doesn't like cats! Roger's answer clearly met with Chris' approval who said it was "beautifully described by Roger, - what an eloquent speaker! The cats of Great Britain are in good hands, - Roger is there for you!"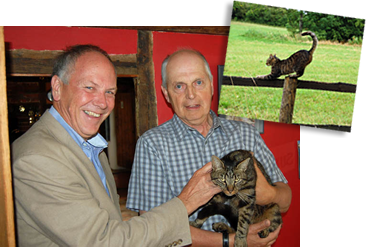 BBC1's Breakfast with
​​

Live on Monday 18th July 2011
Roger talked about the 'Secret Lives of Cats' project on BBC1's Breakfast on location in Suffolk. Featured was one of the project's 'stars' Freddie, a neutered male tabby cat that ranges over 6 acres (followed by micro-GPS) encompassed by field hedgerows in which he hunts. His 'catcam' revealed Freddie also spent a fair bit of time snoozing on straw bales in a barn or near his owner Jim in the farmhouse. [Picture of Roger and cat Freddie with his owner Jim Fowler]
Report & Documentary - Report published 15th July 2011
Roger Tabor led the "Secret Lives of Cats" study, which used a combination of micro GPS trackers and lightweight 'cat-cams', and was backed by a survey of 3,000 cat owners and Roger's extensive feline experience. Until recently GPS receivers were too heavy and cumbersome for small animals to comfortably carry, but technological advances have miniaturised receivers so we could follow unseen the day & night journeys of our feline 'stars'. Some similarly carried new lightweight cameras so we could see the world through our cat's eye view. Relating these components together has given us a privileged feline view into the secret world of cats.
'Secret Lives of Cats' report and film presented by Roger [produced by Bayer]
Japan Earthquake Animal Rescue & Support
Roger visited the Japan Cat Network Kansai Shelter to meet David Wybenga co-founder of Japan Cat Network, in early May 2011 following the March 11th earthquake and Tsunami.
The JCN is a non-profit organisation dedicated to trap-neuter-return programmes to help Japan's stray cat population, but following the devastation and resultant meltdowns in Fukushima nuclear power plants, JCN joined forces with two other animal welfare organisations in Japan to form Japan Earthquake Animal Rescue & Support (JEARS). The combined disaster has been horrific for the people in the affected areas, but to add to that in the radiation exclusion zones people were facing long term eviction and no facilities for their pets and other animals, causing an animal welfare crisis and additional distress to owners.
To find out more or give support see http://jears.org and updates on JEARS facebook page http://www.facebook.com/AnimalRescueJapan
Roger Filming "Joanna Lumley: Catwoman" 2009
Joanna Lumley : Catwoman ITV1 7pm Sunday 6th & 13th September 2009; repeated ITV3 at 9pm 3rd & 4th January 2011
Roger Tabor was seen with Joanna in both programmes in her mini-series in which she looked at how we live with and have lived with cats. Joanna, famed as Purdy in the "New Avengers" and Patsy in "Absolutely Fabulous", and who became dubbed the "Goddess of the Gurkhas" for her key role in gaining proper treatment for them from the British Government, has now revealed her love of cats in these programmes.
Ian Leese, the director of the series said of Roger's role in the programmes :
"Its great! Roger really ties it together as the scientific or biological underpinning of the series"
Roger filmed with Joanna at the Supreme Show, discussing the range of breeds, and some of the problems. He and Joanna were filmed in 2009 at a house in Kent sitting on a sofa surrounded by cats, when the word came through from the Prime Minister's office that THE announcement would be made the following morning about the change of policy over the Gurkhas. Roger had the privilege of being able to be the first to congratulate Joanna on her achievement.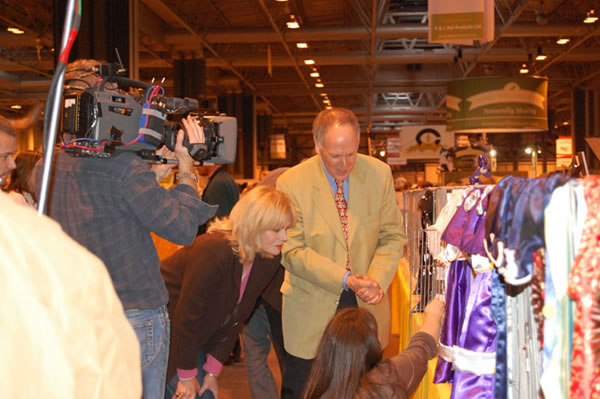 Roger Filmed 'Animal attractions TV' for PBS, USA TX: 2009, also 2010 & 2011
Roger was seen across 2009 on PBS in the USA, repeated 2010 & 2011 (depending on station) in his weekly slot as cat expert giving behavioural advice and information on 'Animal Attractions TV'. This series about pets was produced exclusively for public television by Pineridge Film & Television.